There was a Service of Welcome for Revd Charles McCartney and his wife Cecilia at St Mary's Church in Shinrone on Friday 13th September. The service was led by the Bishop of Limerick and Killaloe the Rt Rev'd Kenneth Kearon.
The full church included local Civic leaders, representatives from other denominations and members of his former parish of Clonfert who joined in the celebration as Charles was appointed as Priest in Charge of the Shinrone Group of parishes, made up of Shinrone, Aghancon, Kinnity and Dunkerrin.
The Preacher was Rev'd Janet White Spunner and the organ, guitar and trumpet were played by Karen Cruise.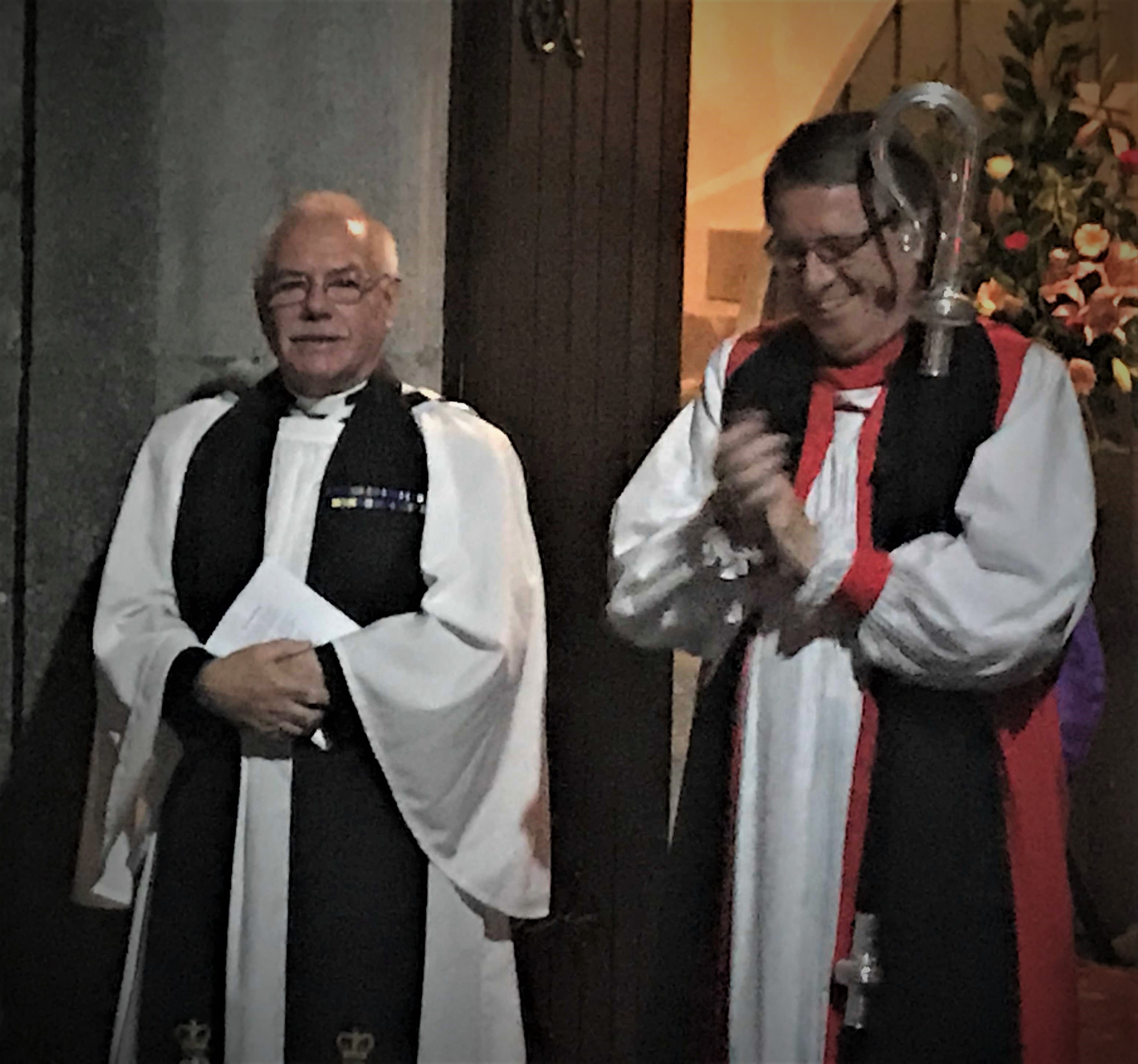 Revd Charles McCartney – Biography.
Charles came from a working-class background; his father having worked in the Belfast shipyards during 2nd World War and then in a structural steel company.
Church was a way of life in his family; as a young person at Sunday School Charles made his profession of faith. He sang as a chorister in St Anne's Cathedral Choir Belfast and was a Sunday School teacher.
Charles left school at 15, served his apprenticeship as a motor mechanic and became a vehicle/driving examiner for the DOE. He served in the RUC part time reserve during the 1970s and 1980s and following his call into full time ministry he was ordained in 1985 and became Curate at St Mark's Portadown (1985-1988).
Charles met his first wife in a Police Station, where she was a regular WPC and they married in 1977. Their first child (Claire) died at 10 months old.
They then had twins Robert and Carol, both now grown up – Robert is a Squadron Leader Navigator in the RAF, married to Becky with a son and daughter. Carol is a Police Sergeant in Liverpool and has one child Chloe. Youngest daughter Naomi now works for the Halifax in Belfast and married to Mark
During his time as a curate in St Mark's Portadown Charles' wife Muriel was diagnosed with Cancer and died after just 6 weeks.
As he was preparing to move to Ballygawley as Rector he was introduced to Cecilia who had also been bereaved. Cecilia had met her husband in the UDR (Ulster Defence Regiment) as she served as a part time Corporal and he was a Sergeant in the Royal Signals.
Cecilia's husband had died of Motor Neurone Disease and they had one child, Charlene, who now lives in Germany.
Charles and Cecilia were married in 1988 and were called into Military Chaplaincy the following year. Charles worked as part of a team of 10 chaplains and was later promoted to the Brigade Senior Chaplain with the rank of Major. In 15 years of military ministry they had moved 10 times with their very young children!
Charles believes that this was a great opportunity to prepare for parish life as the military was a very diverse community both denominationally and culturally.
It was an experience that both Charles and Cecilia enjoyed and they came back to Parish Ministry in 2004 when Charles was appointed as Rector in St Donard, Bloomfield followed four years later as Rector to Holy Trinity, Aghalee, a post he held for seven years.
Charles believes that his and Cecilia's life's experiences have given them much to offer in their Christian ministry and their time in the military has broadened their experience of Church and encouraged a very robust style of ministry within that environment.
Charles has been part time Priest in Charge to the Clonfert Group of Parishes from September 2017 and both Cecilia and Charles are looking forward to ministry with the Shinrone Group