PAST EVENTS
National Youth Forum – "Free to Shape your own Future"
From Friday evening 18th to Saturday evening 19th January 2019, the Church of Ireland Youth Department (CIYD) co-ordinated a second National Youth Forum at the City North Hotel in Julianstown, Co. Meath. The delegates from Diocese of Limerick & Killaloe were Adam Gardiner (Askeaton), Robyn Cleary (Nenagh) and James Larkin (Ennis), Maruna Manthe (Nenagh), Aidan Larkin (Ennis) & Anna Mae Powell (Nenagh) & Grace Langley (Nenagh). All are students at Villiers School and are regular attenders at UDYC events. They were accompanied to the event by Edward Hardy and Nicola Downes. The largest representation at the forum was from Diocese of Limerick & Killaloe and our delegates represented our Diocese extremely well as remarked by a number of other Diocesan representatives. It was a great experience to see so many young people and youth leaders from throughout the country from almost every Diocese come together.
The event was opened by the Archbishop of Dublin, the Most Revd Dr Michael Jackson, who addressed the forum. Addressing the Forum, Archbishop Jackson encouraged the young people with the slogan "Free to shape your own Future". This became the slogan of Disestablishment and as we commemorate 150 years since the Disestablishment of the Church of Ireland as it gained an independent voice for change and development. The Archbishop said" It can continue to be taken by every generation of young people in the Church of Ireland as a strong encouragement to engage with capacities, abilities, enthusiasm – your willingness to be included , your hope of not been patronised by tokenism, the gifts that you already have. Believe in God and believe in yourselves"
Also at the commencement of the Forum National Youth Officer with CIYD, Simon Henry, said the Forum provided and exciting opportunity to bring young people together following on from inaugural Forum last year.
It was brilliant to have Nic and Sally Sheppard (Church Army) back again this year once again who facilitated an engaging and interesting programme. Under the stewardship of Nic & Sally, the young people engaged through fun games and serious discussion. They explored "Our World", "How we recognise God at work in the World" and "How we serve and be part of what God is already doing".
Each Diocese had been invited to bring along a time capsule containing items they would see as demonstrating "What it might say about 2019". The time Capsule from Diocese of Limerick & Killaloe contained a written report from each representative from our Diocese giving a personal introduction, faith journey to date and plans hopes and fears for the future. Each person also placed a symbol in the time capsule that was important to them as individuals which included: UDYC booking forms, Summer Madness flyer, Photos of UDYC friends who they had met at events, Villiers tie and prefect's badge, Crosses, Villiers Head Boy's speech at Christmas dinner, medals and coins etc. The time capsule will now return to Diocese to be archived / buried for 25 years.
Towards the end of the Forum the latest CIYD resource, "Praying for Young People and Youth Ministry" was launched to help parishes engage with praying for young people and to support the day of Prayer for Youth Ministry which this year is Sunday 3rd March 2019.
The Forum closed with a time of Worship planned and led by the young people and youth leaders present which included readings, prayers, poems and songs reflecting on "we all have a part to play and there is always room for others to play a part".
The feedback from our Diocesan representatives was very positive from the experience at the Forum on the return journey home.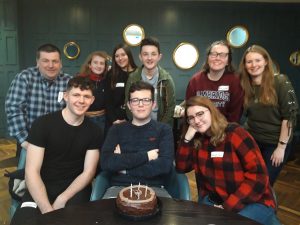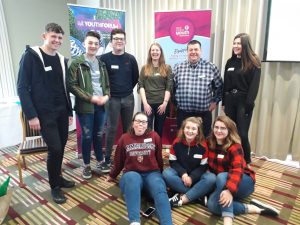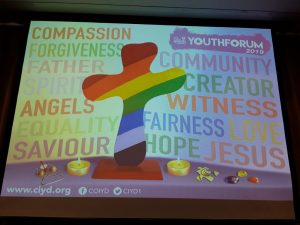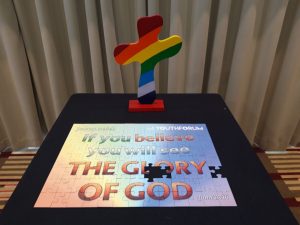 Annual Fundraising Christmas Draw
Very many thanks to very many people that assisted by selling and buying tickets for UDYC fundraising draw. The draw was once again a successful fundraising venture for Youth Council. The winners were as follows: 1st Prize €150 – Robert, Anne & Steve Millar (Quinn, Co. Clare), 2nd Prize €100 – Padraic Taylor (Terenure, Dublin 6) and 3rd Prize €50 – (Awaiting confirmation of Name at time of going to print). Our winning ticket sellers were Edward Hardy (Banagher), Sandra Manthe (Nenagh) and Grace Langley (Nenagh). Robert, Anne & Steve Millar have very kindly returned their prize money as a donation to UDYC. The draw took place at Richmond Terrace and Violet Despard a resident at Richmond Terrace drew the winning tickets. Once again many Thanks to everyone.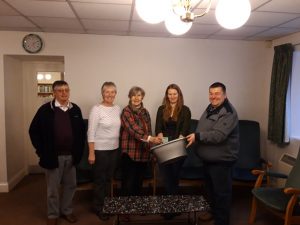 Future Events
MAD Day
UDYC are hoping to hold a traditional Multi Activity Day for all those in 3rd to 6th class in National School on Saturday 16th March from 10 am to 6 pm. Watch out for further details shortly.