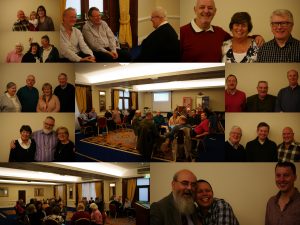 For the first time, the Clergy conferences of Limerick and Killaloe and Tuam, Killala and Achonry were this year held jointly. The chosen venue, the Ardilaun Hotel in Galway, is as near central as possible to what are probably the two most geographically diverse diocese in Ireland – as evidenced by the number of geographically diverse accents of the combined clergy delegates! Sponsored by the two Diocesan Bishops, and led by the Bishop of St Asaph, The Right Revd. Gregory Cameron, the focus was upon the experience of the Welsh Church, identifying the similarities and ideas relevant to the two diocese and offering challenges for future mission.
Since 2012, the Church in Wales has been responding to the Harries Report commissioned in preparation for the centenary of Welsh disestablishment in 2020. The report addressed hard questions: did the Church have the right structures, resources and leadership for the twenty-first century? Bishop Gregory spoke about the response of his diocese. Believing that the renewal of congregational life, with each community having a lively missional Church in their midst, is the key to mission, the diocese had been re-organised to encourage sharing of good ideas and ministry. Twenty-one Mission Areas are each led by a shared ministry team, with clergy and licensed lay leadership, and a Mission Area Conference, whose brief is to enable new forms of being Church. Gregory also explored the biblical foundations of mission understood through the Body of Christ, which was salt and light to the world (Matthew 5.13-17, Ephesians 4.1-16, John 5.19.20). Finally, delegates were invited to compare and contrast 2020 Vision in Wales with their own situation, and take on board potential lessons for implementation – with appropriate modification – in their own situations.
Commenting on the success of the Conference, Bishop Patrick Rooke said that he felt that "The Joint Clergy Conference gave the bishops and clergy of the two dioceses the opportunity to spend time together in a relaxed environment. As a result, new friendships were forged. Furthermore, we learnt much about Ministry/Mission Areas in the Church in Wales and the need to work collaboratively for the benefit of all."
Bishop Kenneth added "Partnership in Mission was the sub-text of our joint Clergy Conference. With some reluctance clergy of our United Diocese abandoned their much-loved annual conference venue in Dingle to join for the first time with the clergy of Tuam, Killala and Achonry in a joint conference. As with so many recent meetings with Tuam, we found a lot of common experiences and shared challenges as well as easy friendships with a diocese which in so many ways is similar to our own. Over meals and coffee we talked about the challenge of distance, parishes stretching over large areas, and maintaining beautiful but ancient church buildings. We were also able to talk about lively church communities, initiatives with tourists, welcoming newcomers, and developments in lay ministry. A true sense of partnership emerged, and a renewed commitment to the mission and witness of the church in the west and south-west of Ireland.
Conferences always have two aspects – the formal inputs and talks, and the informal opportunities to share and talk with others who have similar experiences. At this year's clergy conference we were able to experience both, and to frame both in a renewed sense of partnership and friendship, both with Tuam, Killala and Achonry, and with the Church in Wales through our speaker Bishop Gregory."
Speaking to delegates, it was clear that geographical and cultural diversity were issues needing further discussion, not just between the two Dioceses* but internally as well. However this was not necessarily a weakness; rather, an opportunity to continue sharing experience and explore potential for a broader, encompassing, mission strategy towards the achievement of our mutual vision – God's Kingdom, come.

As a thank you for the huge amount of work Bishop Gregory had put in to lead the conference, we presented him with a piece of original ceramic from a Galway artist. He thought it was a stork; Bishop Kenneth insisted it is a heron. It could possibly be a Great White Egret. Answers on a postcard…
*According to the OED, 'Dioceses' is the plural of Diocese, but is pronounced as DY-uh-seez (-y as in sky, -ee as in meet), not DY-uh-seez-iz. Just thought you might like to know.