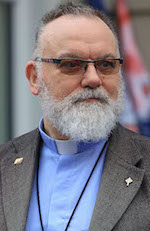 What promises to be a fascinating night of insights linking international and local history has been lined up for the Rose Hotel in Tralee on Tuesday, October 3.
The Kerry Archaeological and Historical Society will host a lecture entitled 500 years after Martin Luther: The Reformation and its legacy in Kerry at 7.30pm.
The talk will be delivered by Rev Simon J Lumby, Archdeacon of Aghadoe, Ardfert and Limerick and Rector of St Mary's Church of Ireland, Killarney.
A popular member of Killarney Rotary Club who is very active in local community affairs, Rev Lumby is responsible for covering a large diocesan area including Kerry, Limerick, Clare and Tipperary North and his role encompasses the ancient dioceses of Ardfert, Aghadoe, Limerick and Emly.
Admission to the lecture is free and all welcome. ​​