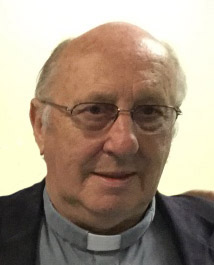 Canon Trevor Sullivan is well remembered as Rector of the Aughrim & Creagh Parish Unions, where he served from 1984 until his retirement in 2007. Portadown born, his church ministry began in the 1960s as a lay Church Army captain in England. Following his ordination in the Church of Ireland in 1970, he served in curacies in Shankill, Lurgan, and in Tralee & Dingle. He also worked in the Irish School of Ecumenics, as Industrial Chaplain in the dioceses of Dublin and Glendalough, and as rector of Ematris, Aghabog and Aughnamullen in Clogher Diocese. During his time in the Diocese of Limerick and Killaloe, he was appointed as rural dean and as Prebend of Inniscattery.
Canon Sullivan's ministry was characterised by his passionate commitment to peace and reconciliation. From the 1970s onwards, he worked with a number of bodies to build peace on this island and served as a consultant at different stages of the peace process. His work with the Battle of Aughrim Interpretive Centre and with the Aughrim Summer School did much to bring together people from the north and south. He will be fondly remembered by the staff and patients of Portiuncula Hospital, where he ministered with deep devotion as hospital chaplain for many years.
Canon Sullivan had a very active retirement, during which he continued to minister in a number of parishes, including Athlone Parish in the Dioceses of Meath and Kildare, and in the Ardagh Union and Roscommon Parish in the Dioceses of Kilmore, Elphin and Ardagh.
On the news of his sudden death last weekend, there has been a deep outpouring of affection for Canon Sullivan from former parishioners, clergy colleagues and people in the wider community, who remember his life and ministry with such fondness. Their thoughts and prayers are with his wife Doris, their daughters Moynagh and Johanne and all the family