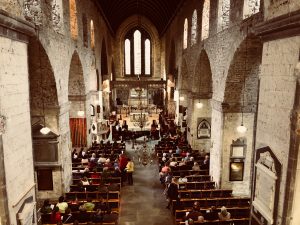 Saint Mary's Cathedral, Limerick celebrated Europe Day (9th May) with a Flash Mob in the Cathedral of nearly 300 people. The assembled crowd gathered from all walks of Limerick life and included Cllr Stephan Keary, Mayor of Limerick and MEP Mr Sean Kelly in the beautiful surroundings of the Cathedral to sing a portion of the European Anthem – Beethoven's famous 'Ode to Joy'.
The event was held in response to a challenge from Maestro Plácido Domingo President of Europa Nostra, on the occasion of the European Year of Cultural Heritage 2018.
The Cathedral, which is celebrating it's 850th anniversary this year, was packed to capacity for the event which included school, college and university students and celebrated the rich diversity of cultures present in Limerick.
Commenting on the event, the Dean, the Very Rev'd Niall J. Sloane, said 'The City of Limerick and Saint Mary's welcomes every nationality from all over the world. The city which is the gateway to the Wild Atlantic Way stands as one of the most Westerly cities in Europe and yet is proud to have possibly, every European nation represented in the City. Today's event highlights what a small planet we are and celebrates the rich and beautiful cultures of most parts of Europe. Saint Mary's has over its long history welcomed people from all over the world and today we had the opportunity through music, to unite, sing and proclaim that all of us are 'Eines Freundes Freund' (a friend's friend)"