'Ta athas an domain ormsa freisin leis an nuacht seo, and taim ag siul in airde bheith ag obair le Rita sa thodchai. Nuacht iontach do TL agus K; nuacht iontach do Chumann Gaelach na hEaglaise   agus mise in a bPatrun! Taim cinnte go ndeanfaidh Rita obair thar bharr chun phairt an Gaeilge a spreagadh in Eaglais na hEireann, le fuinnimh agus le gliondar. Rath De ar a iarrachtai go leir!'   Bishop Michael Burrows, 6th January, 2023.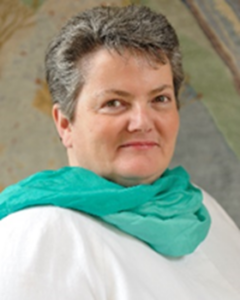 Dr Rita Kelly Appointed Irish Language Development Officer for Cumann Gaelach na hEaglaise
Tá an-áthas ar Chumann Gaelach na hEaglaise a fhógairt go bhfuil an Dr Rita Kelly ceaptha mar Oifigeach Forbartha Gaeilge ag an gCumann. Beidh aithne is cur amach ag a lán daoine uirthi mar is file agus scríbhneoir dátheangach í le fada an lá. Tá sí páirteach i ngluaiseachtaí áirithe na Gaeilge leis na blianta.
Bhí sí pósta le hEoghan Ó Tuairisc (1919-1982), scríbhneoir mór le rá i saol na hÉireann.
Ó 2015, tá sí pósta le Edel Connolly, iar-phríomhoide meánscoile.
Is Gaillimheach í Rita ó dhúchas, baineann sí go mór mór le hOirthear na Gaillimhe.  Chaith sí tamall ag cur fúithi sa Ghearmáin, in Manhattan, i bPort Láirge agus cois Bearbha gar do Cheatharlach agus áiteanna eile nach iad.
Is i mBiorra, Co. Uíbh Fhailí atá sí lonnaithe faoi láthair, rud a bhíonn iontach áisiúil di chun taisteal go gach cearn den tír mar beidh Rita ag feidhmiú ar fud na tíre, ó Thuaidh agus ó Dheas, i measc an phobail agus eagrais na hEaglaise leis an nGaeilge a chur chun cinn.  Tá an-áthas uirthi go bhfuil an tír ar fad faoina cúram aici sna cúrsaí seo.
Bíonn Rita an-ghníomhach ina paróiste féin i mBiorra, agus cháiligh sí ní ba luaithe sa bhliain mar Léitheoir Tuata; is comhalta de Rogh-Bheistrí Bhiorra í chomh maith. Cuireann sé ríméad uirthi glactha leis an bpost seo. Tugann an post seo deis di daoine a chur in aithne dá chéile, daoine ag a bhfuil togha na Gaeilge acu agus a bhaineann le hEaglais na hÉireann ó thus, ach nach bhfaigheann deis i gcónaí a gcuid Gaeilge a labhairt ná a gcreideamh a chleachtadh trí mhéan na Gaeilge.
Aithníonn Rita, mar aon leis an gCumann, an méid oibre atá deánta ag Caroline Nolan, a bhí sa phost roimpi go dtí le deanaí (2011-2022).
Bunaíodh Cumann Gaelach na hEaglaise sa bhliain 1914 (1) chun meon na Seaneaglaise Ceiltí a choimeád beo in Eaglais na hÉireann agus na baill den Eaglais a chuireann spéis sa Ghaelachas a bhailiú le chéile, (2) úsáid na Gaeilge a leathnú san Eaglais, (3) iomainn agus ábhar diaga eile a bhailiú ó litríocht na Gaeilge agus (4) ceol agus ealaíon Éireannach a chur ar aghaidh in imeachtaí na hEaglaise.
Eagraíonn an Cumann seirbhísí rialta in áiteanna éagsúla ar fud na tíre ó am go ham, agus tacaíonn sé leo – mar shampla, Lá Fhéile Bríde, Lá Fhéile Pádraig agus  féilte eile. Tacaíonn Cumann Gaelach na hEaglaise le seirbhísí Gaeilge in Ardteampall Chríost, in Ardteampall Naomh Pádraig, Baile Átha Cliath; Ardteampeall Fhionnbarra i gCorcaigh, Ardteampeall Chríost i bPort Láirge. Anois, tar éis na pandéime tá súil ag an gCumann an tacaíocht chéanna a chur ar fáil do pharóistí ar fud na tíre chun Seirbhísí Gaeilge a chothú.
Tá an post seo á mhaoiniú ag Foras na Gaeilge. Tá súil ag Rita go rachaidh daoine i dteagmháil léi chun cibé cabhair is féidir léi nó leis an gCumann a chur ar fáil dóibh siúd a bhfuil fonn orthu úsáid na teanga a leathnú i measc phobal na hEaglaise.
********
Cumann Gaelach na hEaglaise (Irish Guild of the Church of Ireland) is delighted to announce the appointment of Dr Rita Kelly as Irish Language Development Officer for the Cumann.  Many people will already know her and her work as she is an acclaimed and well-established poet and writer in both Irish & English. For 50 years or so, she has been involved in many Irish language developments and activities, both culturally and literary.  These involvements mean that she has travelled to all corners of Ireland, making friends as she went, connecting and reconnecting with many common threads.
She was married to Eugene Watters/Eoghan Ó Tuairisc, (1919-1982) the well-known bilingual poet and writer.  Since 2015, she is married to Edel Connolly, a former secondary school principal.
She is a native of Galway and is associated with East Galway in particular. She has lived in many different places – Germany, Manhattan, Waterford and along the River Barrow near Carlow, to name but some of them.
She now lives in Birr, Co Offaly.  It is an ideal location for travelling to all corners of the country – in this position of Development Officer, she will be working with the Church of Ireland community of the entire country, North and South, to promote the use of Irish.
Rita is very active in her own Birr Group of Parishes.  In 2022 she was commissioned as a Lay/Parish Reader, and she is a member of the Birr Parish Select Vestry.
This new position allows Rita to bring people together, to connect people to each other, people who speak wonderful Irish, people who are members of the Church of Ireland since childhood but don't often get the opportunity to use it or the opportunity to worship in Irish.
Rita joins with the Cumann Gaelach in acknowledging the great work done by her predecessor, Caroline Nolan, who was first appointed in 2011.
The Cumann Gaelach na hEaglaise was founded in 1914 with the following aims:
Promote the spirit and the mentality of the ancient Celtic Church and to unite all those within the Church who value that aspect of their heritage.
Promote the use of Irish within the Church.
Collect from Irish sources, hymns and suitable devotional literature.
Encourage the use of Irish art and music within the Church.
The Cumann organizes and supports regular Church Services, in different places, from time to time, throughout the country – e.g. for St Brigid's Day, St Patrick's Day, certain feasts and festivals.  The Cumann supports Services in Irish in Christchurch Cathedral, in St Patrick's Cathedral Dublin, St Fin Barre's Cathedral Cork, Christchurch Cathedral Waterford.  Now, after the pandemic, the Cumann hopes to give the same support to parishes throughout the country in the provision of Services through Irish.
This position of Development Officer is funded by Foras na Gaeilge. Rita hopes that people will contact her to seek whatever help she/The Cumann can provide to support them in the promotion of the use of Irish within the Church of Ireland community.