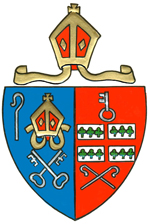 12th March 2020
Dear Colleagues
Following this morning's Government announcement concerning indoor events of over 100 people, the service of Installation and Welcome of Revd Rod Smyth and Revd Paul Fitzpatrick has been cancelled.
The formalities concerning their appointments will be completed privately.
I hope this is seen as a wise decision, and also that I doesn't inconvenience you too much.
With kind regards
+ Kenneth
Bishop of Limerick & Killaloe
From: Rt. Revd. Dr. Kenneth Kearon, Bishop of Limerick and Killaloe, Kilbane House, Golf Links Road, Castletroy, Co. Limerick. V94 X0EF. Telephone 353 61 333635.