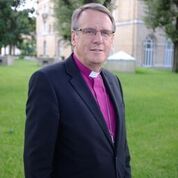 Bishop Kenneth has written both to Clergy and Readers in the Diocese, and to neighbouring RC Bishops, in anticipation of the forthcoming visit to Ireland by Pope Francis.
Copies of the letters follow.
To all Clergy and Diocesan Lay Readers
8th August 2018
Dear Colleagues
As you all know, our Roman Catholic neighbours here in this diocese and throughout Ireland are preparing to welcome Pope Francis to this island in the context of the World Meeting of Families. This is an important event, not only for the Roman Catholic Church but for all Christians in Ireland, as we welcome someone who is exercising remarkable Christian leadership on a global scale. I have written to my fellow Roman Catholic bishops, and I enclose a copy of that letter. Given the very warm and cordial relationship we share with our Catholic parishes and neighbours, might I suggest the following:
That you pray in church for Pope Francis and other global Christian leaders at this time.
That you pray in church for the World Meeting of Families and for family life (some suggested prayers are included).
That where appropriate you send a message, possibly a letter or a visit, to your local Catholic parishes, assuring them of your prayers and good wishes at this time.
These are only suggestions, and other opportunities and ideas may occur to you.
This is an important time of celebration for our Roman Catholic neighbours and we should assure them that we share in their joy and celebrations.

An open letter to my colleague Bishops in the Roman Catholic Church whose diocese overlap with my own.

8th August 2018
Dear Bishop
On behalf of the Church of Ireland communities in the Diocese of Limerick and Killaloe, I extend our very best wishes to you, your priests and parishioners on the forthcoming visit of Pope Francis to Ireland. This is an important time for all in your diocese as you prepare for this visit. In a remarkably short time Pope Francis has exercised a ministry and leadership on a world scale which few would have thought possible. We rejoice in his ecumenical commitment on a wider front, and note his warm personal friendship with the Archbishop of Canterbury, Most Revd Justin Welby. All of this brings great hope to Christians of all denominations, in a complex and unsettled world.
The context of his visit, the World Meeting of Families, is an interest we all share. Families are at the heart of church and community in Ireland, and we welcome that emphasis at this time.
As well as sending you this letter, I have also written to clergy and lay readers in our Diocese, asking them to pray for Pope Francis and all involved in global Christian leadership, and for the success of his visit and the World Meeting of Families.
Kind regards
In addition the following prayers have been suggested
A Prayer for Christian Leaders
Hear us, O Lord, as we lift up before you all who bear the bewildering responsibility of Christian leadership among the churches of the world. Especially at this time we pray for Pope Francis and his visit to Ireland, for Justin, Archbishop of Canterbury and His All Holiness Bartholomew, Ecumenical Patriarch.
Give them wisdom beyond their own, integrity in all their dealings, and a resolve to seek first your kingdom and your righteousness for all humankind.
We ask it in the name of Christ.
———————————————-
A Prayer for Family Life
God our Father, whose Son Jesus Christ lived at Nazareth as a member of a human family; hear our prayer for all homes and families, and especially for our own, that they may be blessed by his presence and united in his love.
We ask this in His name.
———————————————-