International Exchange Trip in Ireland with Romanian & German Group
UDYC welcomed our International Exchange Partners from Romanian and Germany to Ireland for 10 days during Autumn Mid Term Break. Our Exchange Partner Organisations were National College Eudoxiu Hurmuzachi from Romania & Ev.-luth. Kirchengemeinde Altenwalde in Germany both secondary schools in respective countries. There were 11 members of the Romanian group including their two leaders and 7 members in the German group including two leaders.
We met the German and Romanian groups at Dublin airport on Saturday 26th October and then travelled to Lissadell Camp & Conference Centre where the group stayed for the 10 days. During the day on Saturday the German group enjoyed lunch at Supermac's, followed by an open top tour of Dublin which included an excellent tour of Guinness Brewery. In the evening after food the group returned to airport to meet the Romanian group at airport. Everyone then travelled to Sligo stopping off at Edgeworth town for some fast food.
Sunday after a slow start following a late night the groups attended church at Lissadell. Following lunch we walked to Lissadell House for a guided tour. In the evening we played some icebreaker games, talk from Reinhard (German leader) and expectations for the trip were explored. The theme for the week was introduced to the group of "Conflicts, Justice and Peace Locally & Internationally".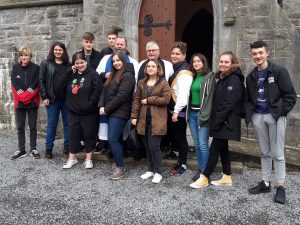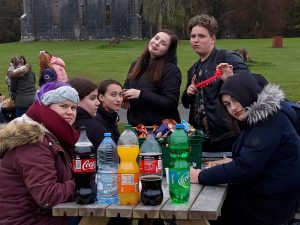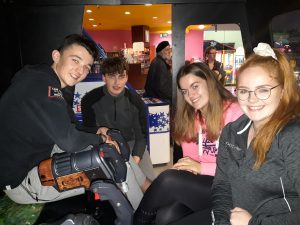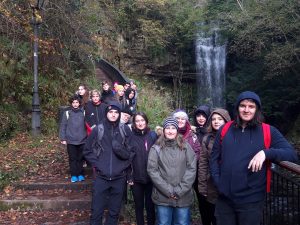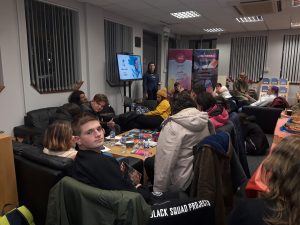 On a frosty bank holiday Monday morning all traveled to Donegal Adventure Centre in Bundoran for a number of outdoor land and water activities including climbing wall, leap of faith, free fall jumping, archery and surfing.
It was an early start on Tuesday Morning 29th October for a trip to Belfast which included an excellent trip to Titanic museum, packed lunch from back of bus and black taxi political tour of Belfast. In the evening all were welcomed to Church of Ireland Youth Department offices at Church House for pizza and refreshments followed by an excellent talk and presentation by Chloe Fulton from International Justice Mission on the topic of slavery.
On Thursday we commenced the day with a visit to see Yeats grave at Drumcliff church with some coffee in coffee shop. In the church at Drumcliff we met with Rev. Malcolm (Tourist Chaplain) who provided an inspirational talk on his personal faith journey, work as a tourist Chaplain and his personal stories on conflict, justice and peace while growing up and living in Northern Ireland. Afterwards, the group had a picnic lunch and Glencar waterfall. The afternoon was challenging with a climb of Knockarea hill but was a super afternoon for those that made it to the top. After dinner, Emma from Tearfund provided an excellent workshop on Global Justice Issues with many practical activities.
It was off to Lough Key Forest Park on Thursday 31st for firstly the Lough Key Experience ( Rockingham House ruins, Tree Top Experience and History of Local area) followed by Zip It Forest Adventures and finally Boda Borg Challenge (similar to crystal maze challenges) . In the evening after dinner the group enjoyed a Halloween party and disco.
After a later breakfast on Friday morning the group were joined by Simon Henry (National Youth Officer- CIYD) who explored the theme for the week excellently using his experience while growing up in Northern Ireland. The group were amazed that the first real interaction that he had with a member of Roman Catholic Church was at the age of 13 years. In the afternoon the group enjoyed the Arigna Coal Mining Experience and ended the evening with a game of bowling in Carrick on Shannon with pool and amusements.
On a wet Saturday morning 2nd November, it was time to visit travel to Strokestown House, Famine Museum and Gardens. The volume of Irish history gathered was amazing at this site. One of the trip highlights was certainly our Karting trip in Carrick on Shannon in the early evening following some free time to explore the town of Carrick on Shannon. Many went to see the smallest chapels in Ireland. In the evening we enjoyed a Romanian evening where we learnt a lot about Romania and its culture and people.
It was back to Lissadell church on Sunday morning where many were delighted to meet Rev. Malcolm again. The preacher was on this occasion Archdeacon Isaac Hanna who invited Edward Hardy to share our experiences of the last week to the congregation. In the afternoon the group travelled to Sligo for a shopping trip followed by a farewell meal at a Chinese buffet. After dinner it was time to return to the centre for an evaluation session, Thank You session and then the big pack up and clean up commenced.
The groups departed from Sligo during the night at 1.15 am as the German flights were at 6.15 am and Romanian group at 8.15 am from Dublin airport with many of the Irish group having to return to school and work early on Monday morning. The entire Exchange trip was a superb experience for everyone that participated and we look forward to possibly meeting in Germany during the summer of 2020.
Junior Weekend 2019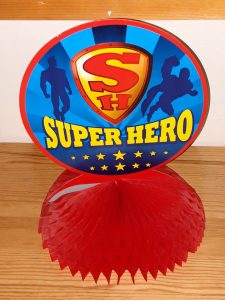 The adventure did begin! Our Junior Weekend 2019 took place from Friday 15th November –Sunday 17th November 2019 at the splendid facilities of the Carhue Centre near Bandon, Co. Cork for what was an amazing weekend of fun, faith & fellowship.
During the weekend the following fabulous activities were on offer: Exciting Times of Worship, Icebreaker Games, Karting with lap times and Giant Sumo Wrestling & food at Kartworld Adventure Centre Watergrasshill, Swimming at Leisureworld, Bowling & Quazar at Leisureplex, Disco, Charades and Games and Good Food.
Steve Grasham (Youth Ministry Development Officer was our Guest Speaker for the weekend, The theme for the weekend was "Super Heros" . On Friday night the group looked at many "Super Heros" from the Bible and on Saturday evening looked at Jesus as a "Super Hero". Our concluding worship on Sunday looked at how each and everyone can be a "Super Hero". There was many interactive games , activities , conversations , songs , prayers etc. used by Steve in our worship times over the weekend making the time together a superb experience.