On Good Friday, and after an absence of two years due to Covid 19, the parishioners of both Saint Mary's Cathedral Tuam and the Cathedral of the Assumption Tuam, were able to join in solemn remembrance of 'The Way of the Cross'.
[envira-gallery id="4242″]
Our journey began in the Cathedral of the Assumption when Fr. Pat Farragher welcomed us and set the scene with prayer. Bill Fennell read the antiphon and sentence of scripture. A young person from The Cathedral of the Assumption led a short reflection. And a soloist sang 'O Lord Hear our Prayer'.
[envira-gallery id="4246″]
From here, the Processional Cross was carried through the streets of Tuam, stopping at 14 Stations along the way, where the pattern was repeated: a St Marys parishioner reading the antiphon and scripture and a young person leading a reflection.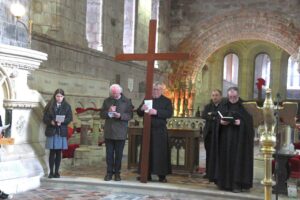 Our journey ended in St. Mary's Cathedral where The Dean, Very Revd Alistair Grimason, led the congregation in a portion of The Litany and pronounced the Passiontide Benediction with the solist singing ' When I Survey the Wondrous Cross'.