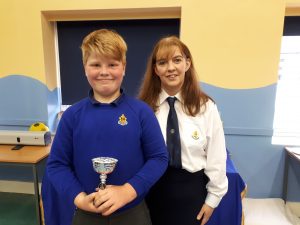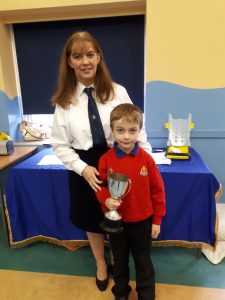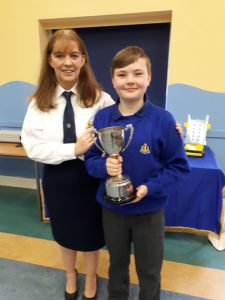 The Parents' Evening marked the end of another action-packed session for the 1st Tralee BB Company as the Boys and Girls demonstrated their marching skills, physical activities and games to their families and friends.
The Captain, Mrs. Collette Price thanked all the Leaders for their time and commitment – Mrs. Dawn Darcy, Messrs. Danny & Rory Giles, Mr. Gerhardt Maritz and Mr. David Tough. As both Dawn and Gerhardt are leaving this year as Leaders an appeal was made for new Leaders to continue the good work of the Company.
Rev. Jim Stephens also thanked the Leaders in particular the Captain who puts so much work into the varied programme each week.
During the year, Rev. Jim enrolled the Company at St. John's Church, Tralee and the Boys and Girls produced a "Fruit and Vegetable People Display" for the Harvest Thanksgiving Service.
A varied programme of Physical, Spiritual, Community, Interest and Adventure activities was carried out during the year including Cooking, Easter Arts & Crafts, St. Patricks' Day Parade, Car Wash fundraising for Parish Youth Club, Sunday Club and Parochial School, a Family Hike and barbeque with visits to the Pantomime and Fenit Lifeboat Station.
At the Parents Evening, all the members received various badges.
Congratulations to Iona, Emmet and Graham on Best Attendance Award, Sarah Lynn, Kayla and Lee on their Friendship Badges and to Rourke for Overall Friendship Award.
Congratulation also to Billy on receiving the Captain's Prize and to Isaac who received the Anchor Boy William Fitzell Cup, and Rohan who received the Junior Section Pam Cooke Trophy.