Rachael Murphy, our Children and Families Development Officer, is encouraging parishes, schools and families to make use of 'Switched On' – which will be published next week (beginning Monday, 20th February).  In this brief introduction, she shares how it can help:
The Church of Ireland Board for Ministry with Children and Families is delighted to partner with CMS Ireland and the Bishops' Appeal for World Aid and Development in the launch of the new children's resource Switched On which explores life in Nepal as seen through the eyes of CMS Ireland partners. The pack helps you consider the impact of climate change in Nepal and to see the amazing ways God's people are showing love in action.
Switched On can be used in church, school or home. Split into four sessions, each one is available in four different age categories for your convenience.  You will also have access to videos, lesson plans and activities ready for you to pick up and use.
Once again, CMS Ireland has created a pack that provides quality resources, true grassroots perspectives, and trustworthy insights into the work and challenges faced by CMSI's partners around the world.
Register now to gain access to Switched On as soon as it is published:  https://forms.gle/9hu86PsEfiwzvSD87
Switched On will be available after publication at www.cmsireland.org/childrens-resource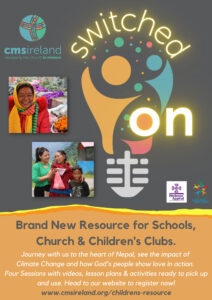 CMSI Nepal Switched On Resource – Poster