Zoom webinars by Kieran O'Mahony OSA for Lent 2023 for preachers, readers and ordinary church members in the United Dioceses of Tuam, Limerick & Killaloe.
Join Zoom Meeting
https://us06web.zoom.us/j/89303292410?pwd=T1Q3czBNcTFYdElteTMwNUxDQWlDQT09
Meeting ID: 893 0329 2410
Passcode: 292967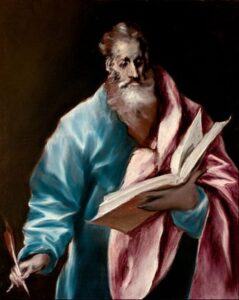 St Matthew, by El Greco, in Museo del Greco, Toledo
Gospel readings for most of this liturgical year will be taken from St Matthew's Gospel. In this short programme of zoom webinars during Lent 2023, Kieran O'Mahony OSA will lay a foundation for reading Matthew, by paying attention to the church setting for which Matthew wrote. Each session will start with the community, before going on to examine selected passages from his Gospel to illustrate and to whet the appetite.
Session 1, 27th February: The social setting of Matthew; Moses symbolism; Matthew 1-2; Matthew 28:16-20).
Session 2, 13th March: The church setting continued; the Sermon on the Mount; selected parables.
Session 3, 27th March: The faith setting: the story of Jesus' death and resurrection (Matthew 26:1-28:1-10); the focus on what is distinctive to Matthew in these climactic chapters.
All sessions will start at 7.30pm, and there will be time for conversation and exchange of ideas.
Kieran O'Mahony is a biblical scholar and an ordained member of the Order of St Augustine. He studied in Rome, Jerusalem and Dublin and worked for more than twenty years teaching Scripture in the Milltown Institute, Dublin. For five years, he was privileged to be one of two Ecumenical canons in St Patrick's Cathedral, Dublin, where the main duty was preaching.  Over the years, his interest in exploring and presenting the lectionary readings has grown, eventually leading to nine books under the general heading "Hearers of the Word." His website, www.tarsus.ie, offers a wide variety of resources (PDF, Audio, YouTube, Podcasts). He hopes to help ordinary church members, readers and preachers to engage with the Word of God in a life-giving way.
Bishop Michael writes: "This year in our liturgical cycle we focus especially on Matthew's Gospel and its distinctive portrayal of the person of Jesus. Our diocesan readers have taken the initiative of inviting a leading scripture scholar, Kieran O Mahony, to provide webinars for them on three Monday evenings in Lent in order to refresh their preaching concerning Matthew's many themes. The Readers would like to invite other interested people across the diocese – clergy, parish readers, indeed parishioners in general, to join with them in benefitting from these webinars. Thus their initiative has turned into a Lenten opportunity for the diocesan family which I'm delighted to commend".