On Sunday 31st October, 'All Saints Sunday', in Saint Mary's Cathedral Tuam, Bishop Patrick Rooke laid up his crozier on the day that he retired from the active episcopate and as bishop, the last bishop, of the Diocese of Tuam, Killala and Achonry. The following day, 1st November, TKA became part of the larger and new United Diocese of Tuam, Limerick and Killaloe.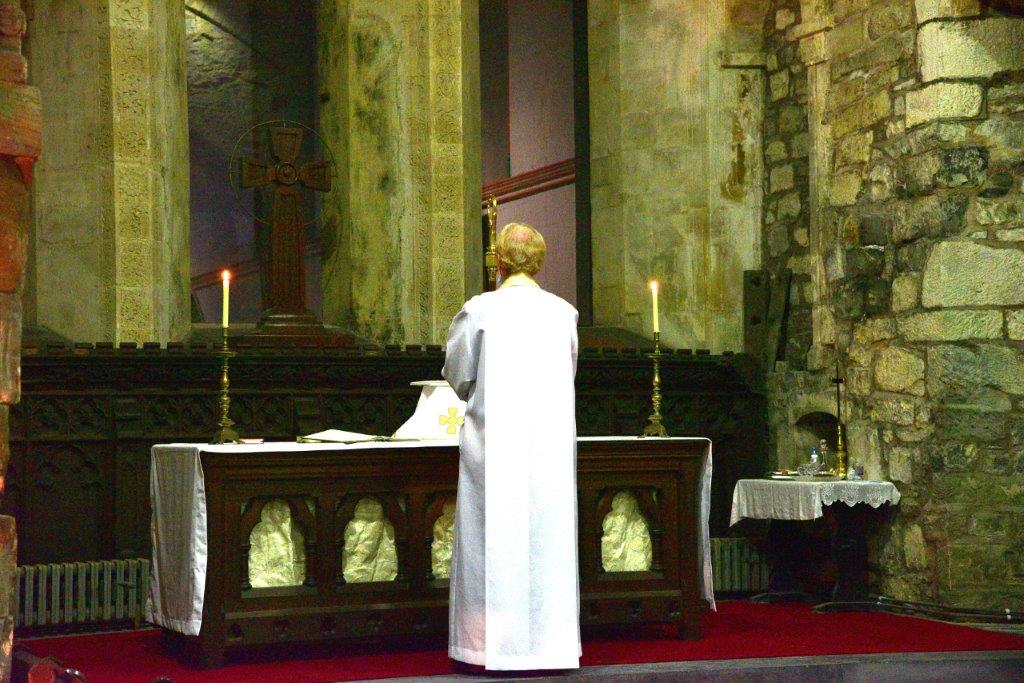 This was an historic day tinged with joy, sadness and expectation. Joy for bishop Patrick as we gave thanks for his life of dedicated ministry as deacon, priest and bishop. Sadness as the Diocese lost a faithful pastor and it's stand-alone status. Expectation as we contemplated, under God, a new beginning for TKA in unity with the Diocese of Limerick and Killaloe.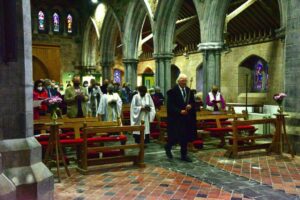 The service was attended by people from every parish in the diocese and we were privileged to have Archbishop Michael Neary and Fr Pat Farragher of the Cathedral of the Assumption with us. It was a simple celebration of The Holy Communion led by The Dean, Very Revd Alistair Grimason and Bishop Patrick. Revd Canon Andrew Ison read the Epistle. The Archdeacon, Ven. Stephen McWhirter, read the Gospel. And the intercessions were led by Rev Canon Doris Clements. David Forde played the organ.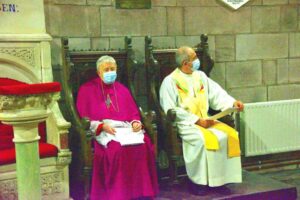 In his address, the Dean spoke of Thanksgiving for the Saints of God; all those both named and unnamed, who in their time had kept the light of faith alive and passed it on to our present generation. At the end of his sermon the Dean invited the congregation to come forward and light a candle in simple remembrance of those individuals who had personally touched their lives and encouraged them in their discipleship.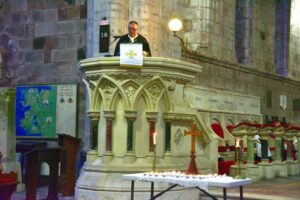 At the end of the service, the congregation kept prayerful silence as bishop Patrick laid his crozier, a symbol of his episcopate, upon the High Altar.
Tea was served in the Synod Hall afterwards. The Dean made presentations to Canon Ison and Canon Clements, both of whom retired from the Cathedral Chapter that day. A cake, specially commissioned by the Cathedral Family, was given to bishop Patrick and gifts were given to Alison and Susanna, the bishop's wife and daughter.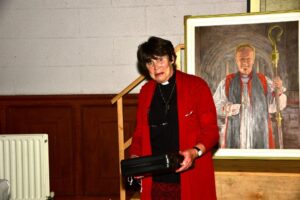 And so a page in the life of Tuam, Killala and Achonry was significantly turned. The diocese now looks forward to a different existence as it, along with Limerick and Killaloe, begins the process of the election of a new bishop for a new united diocese. The first meeting of the Electoral College will take place in Christ Church Cathedral, Dublin on 19th November.