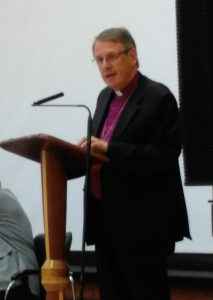 I often go for a walk out by Ardnacrusha or the Parteen Weir, and I never cease to be amazed at the thought and the vision that went into that extraordinary engineering project. In the 1920's the State was struggling to establish itself, national finances were poor and money was in short supply, and yet there were people with sufficient vision in government to undertake one of the biggest engineering projects in Europe, which led to rural electrification and literally transformed the country.
That same vision was there when an equally poor country in the 1950's built vast numbers of quality housing in our cities, especially Dublin in areas like Crumlin, Kimmage, Finglas and so on, but also in Limerick and Cork.
These days we listen to news reports about how successful our economy is and the dilemmas facing our Minister for Finance as to how to spend a surplus, and on alternate days hear that the homeless crisis is still growing and of the numbers in hospitals lying on trollies.
In the early years of this State, and before that, we hid societies problems in institutions of all sorts, and only now are we discovering what was going on behind those high walls, and we ask in despair 'how could this have been allowed to happen'?
In fifty years' time will later generations talk about 'direct provision,' 'families living in hotel rooms' 'patients on trollies in hospital corridors' and ask 'how could that have been allowed to happen?'
Where is the leadership or vision which will solve this crisis, in this very wealthy country?
This is my fourth time to address the Diocesan Synod and I have been bishop here for just over three years, and I continue to give thanks to God for the life and vitality of these united dioceses. Like every church we face our own challenges, but I am continually heartened by the willingness of all to face them positively and to find imaginative and creative solutions.
The challenges are obvious. The general decline in religious practice in the Western world has been made much more serious by the phenomenon of rural depopulation which is affecting most parts of our country apart from the East coast which continues to grow. All aspects of life are affected. Some time ago the Post Office said it needed to close almost half of its offices; Ulster Bank has closed 20 branches; in parts of Clare it is difficult to find the services of a G.P.; bus routes, especially those serving smaller towns, are under pressure. Working on the land no longer supports the numbers of families that it used to, and tourism, now the backbone of many local economies in the south and west, employs many especially young people who come from abroad for the summer season but soon depart, and so never become part of the community.
In this situation, I believe it's important that as a church we 'remain present' in the community, both to ensure that we serve the needs of our own worshipping community, and also to contribute to the richness of local community life. Most of our parishes are actively engaged in such involvement, and I know this is welcomed by our local communities.
This means that many of our parishes have four or sometimes more church buildings, and those buildings with the worshipping community which uses them are a central element in our 'being present' in society. It also means that some of our parishes are defined simply by the fact that they share one priest, but otherwise function as 3, 4 or more separate church communities.
We have responded to this a number of ways. First there is the initiative of the Long Term Church Committee headed by Mr Edward Hardy, to encourage us to be a more welcoming church and that has changed attitudes in many places. Churches exist for the benefit of those outside of them, and unless we welcome others to our parish and to our worship, then there is little point in planning for the future, because there wont be one.
Allied to this, is our Spiritual Tourism project, promoted by Archdeacon Lumby. To ask the question – "could faith be part of your holiday?" – "would you like to experience church while you visit this part of Ireland?" has led to much deeper questions about how we relate to the thousands of visitors and tourists who visit this part of Ireland each year. Could a retreat be part of your personal refreshment? In opening up these questions Archdeacon Lumby has been pushing an open door, but perhaps the time is ripe for us to create a formal structure for all of this, and to integrate it into the outreach of our diocese.
Amalgamating the Diocesan Board of Mission with the Long Term Church Committee was an obvious step in all of this, as we combine outreach at home with our outreach abroad, especially our relationship with Swaziland. You'll see the fruits of this amalgamation in the report from the Council for Mission.
We cannot have outreach without education in the faith. I know many of you, especially clergy and lay readers, appreciate Canon Patrick Comerford's ministry in the diocese with respect to continuing education. Many of us are regular readers of his blog, complete with pictures of cups of coffee; his weekly aids to leading worship and to preaching, and his regular meetings, have done much to refresh our thinking and our worshipping life. I'm very grateful for what he does for us.
One of the most important issues facing our Synod this year is our future relations with the Diocese of Tuam, Killala and Achonry. It's only a short couple of years ago that your Diocesan Council took the initiative to write to the Diocesan Council of Tuam, Killala and Achonry, following the collapse of proposals from the Commission on Episcopal Ministry and Structures. The Working Group which you appointed has worked very hard and has reported to each meeting of Diocesan Council in both dioceses and to each Diocesan Synod.
An important stage in this was our joint Diocesan Clergy Conference in Galway last year, where it was clear that easy friendships and common challenges were shared, and that, whatever the outcome of our talks, joint clergy conferences between ourselves and Tuam, Killala and Achonry will continue for the foreseeable future.
The proposals are before you. A vital feature of these proposals are that they are our proposals for the future. We've had strong encouragement from General Synod and the wider church, but no interference. These proposals have been discussed by your Diocesan Council. It is now time for decision.
We are blessed in this diocese with the warm ecumenical relationship we enjoy with our fellow Christians, especially those in the Methodist Church and the Roman Catholic Church in this part of Ireland. The Covenant between the Methodist Church in Ireland and the Church of Ireland has enabled family ties and personal friendships blossom into co-operation and friendships between worshipping communities, and we look forward to the addressing and hopefully removal of the remaining barriers which hinder even greater co-operation and interchange. Perhaps a small gesture would be for us to mark John Wesley Day with, at a minimum, appropriate prayers in our churches on the nearest Sunday. John Wesley Day is 24th May.
I enjoy a close personal friendship with Bishop Leahy – we've known each other for many years long before either of us was in Limerick – and that is extended to Bishop Ray Brown in Kerry and Bishop Fintan Monaghan in Killaloe. We now co-operate and share in worship comfortably and easily, and happily we often find that our congregations are ahead of us in that – long may that continue. We do offer our prayers and support to our Catholic neighbours across the diocese as they prepare for the Papal Visit and the World Meeting on Families in August.
A diocese is about people, and each year brings its changes. We note the passing of Mr Robert Roe who served Diocesan Synod, Council and Finance Committee for many years. He was central to the amalgamation of Limerick with Killaloe, and in the national church represented our diocese with distinction on the Standing Committee and on the very important Priorities Committee. Others have spoken of his enormous contribution to the livestock industry.
Peter Read also passed away during the year. One of my memories over the years of General Synod was of Mr Read's active participation in General Synod, ably representing the perspective of Killaloe and a voice for the church in rural Ireland. He was a very active member of the Board of Social Responsibility.
Canon Donald Atkinson was rector of Ballinalough from 1962 – '68 and of Cloughjordan from 1968 – 1996, where he is remembered with great fondness as a caring and confidential pastor. He served as Chancellor in the Cathedral's Chapter. A great innovator in the parish he enjoyed the outdoor life, especially shooting and fishing which were his passions.
Rev'd David Earls was a Dubliner who served in this diocese first as rector of Rathkeale and then in Killarney. He served in the Cathedral's Chapter as Precentor. He went from this diocese to be Dean of Ferns.
We thank God on every remembrance of them.
We've seen quite a lot of changes in clergy during the year. Rev'd Jim Stephens completed his transfer from non-stipendiary to stipendiary ministry, and is now incumbent of Tralee; Rev'd Charles McCartney came to us from Portadown to be priest-in-charge in Clonfert; Canon Niall Sloane came from Killiney in Dublin to be Dean of Limerick; unusually we made a joint appointment to Kilcolman when Rev'd Sister Isabel Keegan and Rev'd Sister Ann-Marie Stuart, both Franciscans, came to us from the Diocese of Salisbury. This day week, next Saturday, we will welcome Rev'd Paul Fitzpatrick to the diocese to become second curate in Limerick City Parish.
Canon Michael Johnston has resigned as Rector of Shinrone Group of Parishes. We wish him and his family every good wish and happiness as they move to Kilkeel in Co Down.
As many of you know, Canon Bob Hanna has announced his intention to retire shortly, after 24 years as Rector in Ennis. We thank him for his long ministry in the diocese and wish him every blessing for his retirement.
So today at Synod, as we review the year that has passed, we thank God for the privilege of being part of God's Church and for the opportunities for service that it provides, and so we commit our proceedings today into God's hands, and pray for his guidance on our deliberations.